Jewelry » Gemstone Jewelry » Bassali Opal Pendant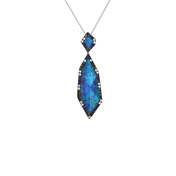 Bassali Opal Pendant
Opulent Opal 14K White Gold The Dagger Pendant screams to be noticed with aysemetric composite Opals surrounded by .19 ctw of colorless diamonds and a combination of black diamonds (.25 ctw) and blue sapphires (.26 ctw.)
Item Number: PN9688
Call for Current Pricing
Spotlight

"The Christina"
View More
Store Hours
Tue-Wed-Fri 9:30-5:30p.m.
Thur 9:30-7p.m. Sat 9:30-5p.m.
Closed Sundays & Mondays
What Our Clients Are Saying
"Honest people. Nice and patient. Most important, they didn't try to "up=sell" me... not pushy. Treated me like a millionaire and never made me feel bad that I have a small budget."